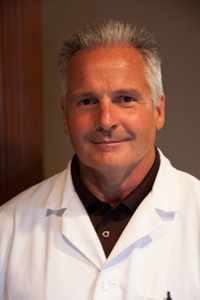 Dr. Brown graduated with honors from Logan College of Chiropractic, St. Louis, Missouri. Dr. Brown has received proficiency ratings in Applied Kinesiology, Chiropractic Orthopedics, Chiropractic Sports Injuries, and Cox Flexion Distraction Decompression Manipulation. He established Sugarcreek Chiropractic in 1988.
Dr. Brown treats a wide range of musculoskeletal and soft tissue injuries using the most up to date Chiropractic modalities. Common conditions treated include: lower back pain, disc pain, sciatic leg pain, as well as joint injuries in the upper and lower extremities.
Patients at Sugarcreek Chiropractic range in ages from infant to the elderly. They also include people with injuries from work or auto accidents, weekend athletes as well as those who want to maintain their health. The primary objective with chiropractic treatment is to correct the causative dysfunction and follow up with rehabilitative exercises the patient can perform at home.
Dr. Brown and his wife Becky have been married 29 years and have three children, Chelsea Jo, Grace, and Zachary. He enjoys competitive water skiing, running and deer hunting.